The best features of a HQD disposable vape device are the battery capacity and its variety of flavorful combinations from apple peace ice to fruit fusion options. They provide great value for money whether you choose the HQD Cuvie or Cuvie Plus.
If you've tried the HQD range before, then you'll be well aware of their sleek and stylish vape pens, perfect as a disposable vape option. However, is it the best vape choice for you?
In this guide, we're going to look at the HQD vape and whether or not, it's the best option for your needs when it comes to a disposable vape device or vape pen in general.
What is a HQD Cuvie?
HQD Cuvie is one of the simplest disposable vape device options on the market. They're slim and compact, making them perfect for slipping into a coat pocket or having in your bag on the way to work.
They're pre-filled with delicious flavors that are highly addictive and will leave you wanting more. They're an attractive vape pen and will be one you'll be happy to pull out, even if for discrete vaping.
Read more on how to use HQD vape?
Top features
There are some great features to the HQD Cuvie and when it comes to deciding on the best HQD disposable vape, it's important to weigh up the pros and cons of each!
Best HQD Flavors:
Which flavors are considered the best when it comes to the HQD Cuvie? Here are a few top flavors that you should try if you're approaching the vape brand for the first time.
Blueberry
The Blueberry is a real crowd pleaser because it's not too sweet that it's overpowering as you puff your way through the disposable vape device. It's got the right balance that is a fan favorite for many vape users.
Ice Mint
Ice mint combines the fresh flavor of mint with an icy kick that hits the back of your throat in the most satisfying manner.
Peach Ice
If you love peach, then you'll love the flavoring of this combination as it delivers that delicious tasting fruit with an icy punch that you get at the tail-end of the inhale.
Pineapple
Who can deny the tangy flavoring of pineapple on a hot summer's day? It's a go-to for anyone wanting to whisk themselves away to a tropical paradise - even if they're in their living room!
Battery life:
The battery life of the HQD Cuvie is 280mAh which is more than enough to provide the intensity that you'll need in a disposable vape device.
Read here for How To Recharge a HQD Vape.
Total Hits:
There's a total of 300 puffs available with the HQD Cuvie. Despite it being at the lower end of disposable vapes, it's a perfect option for beginners to vaping or those looking to try the HQD brand for the first time.
 Ingredients:
The ingredients within an HQD Cuvie are standard for most disposable vapes. This includes Vegetable Glycerin, Propylene Glycol, Natural and artificial flavors, and Nicotine.
Disposable vape device details:
These disposable vape devices are small and compact with a weight of just 12g, meaning you won't feel them in your pocket. With an e-liquid capacity of 1.25ml, you don't need to worry about refilling or recharging as they're designed to simply throw away once finished.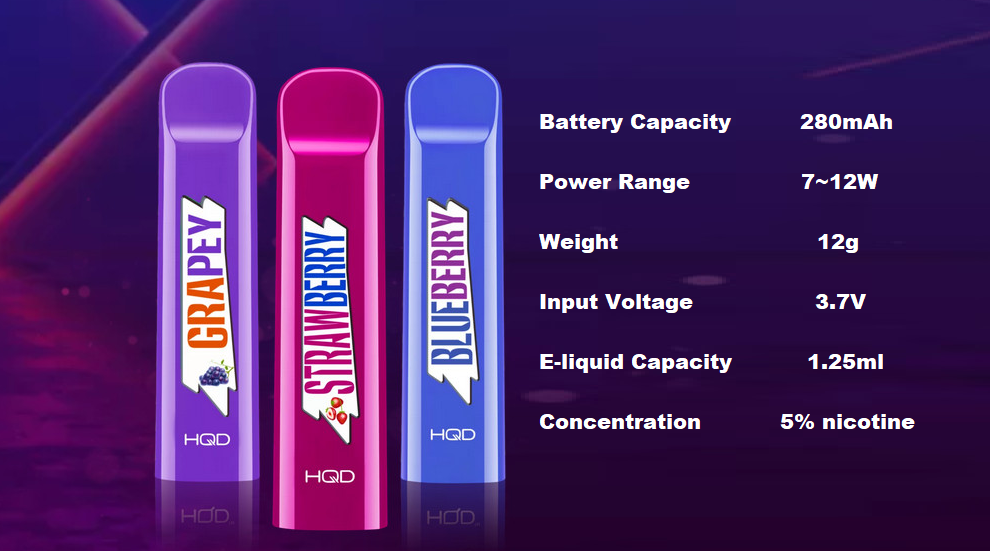 How much is an HQD Cuvie disposable vape?
For those looking at purchasing a HQD Cuvie disposable vape, you can enjoy one of these devices for just $17.95. This is an average price for smaller disposable vapes like this one and is equivalent to 20 cigarettes, so you'd be saving money by vaping these devices.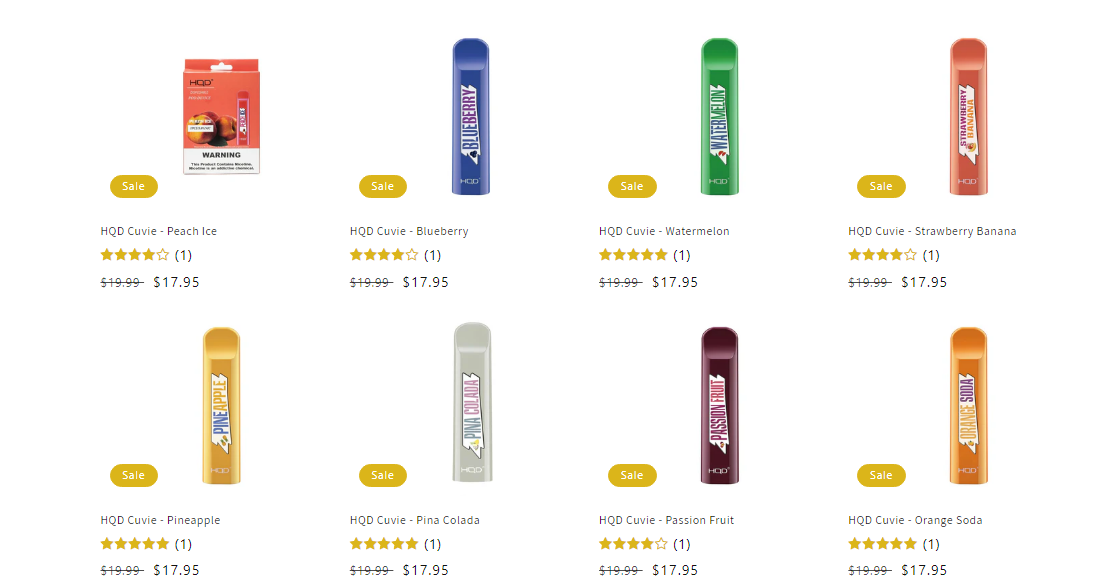 What is a HQD Cuvie plus?
A step up from the HQD Cuvie is the HQD Cuvie Plus. A similar device in that it's disposable but offers a variety of flavor combinations additionally to the smaller version. It also offers plenty more puffs as a result.
Top features
What are some of the top features that entice HQD customers to opt up for the Cuvie Plus HQD disposable vape?
Best HQD Cuvie plus flavors:
There are plenty of great flavors to explore within this range, so let's look at some of the top picks for flavor combinations in this disposable vape device.
Ice Tea
There's nothing like a sweet iced tea on a warm day to cool you down. Well, you can somewhat recreate that feeling with the HQD Cuvie Plus Ice Tea flavor, a favorite for those a fan of the iced beverage.
Strawberry Watermelon
What's better than just a strawberry flavor vape? One that has watermelon added, of course! The Strawberry Watermelon combination is one that will quench your first over and over again.
Apple Peach
Two of your five a day - if only - is the Apple Peach. A delicious blend of fruity goodness that will have you satisfied with every hit.
Tres Leches
The Tres Leches is one that is a unique flavor but is inspired by South America's best dessert. Three different types of milk in a spongey cake, perfect for those who have a sweet tooth that needs satisfying.
Strawberry Lemonade
Another fruity favorite that will have you reminiscing about summer is the Strawberry Lemonade. It's a must-try for anyone who likes drink-inspired flavors.
Battery life:
The battery capacity on the HQD Cuvie Plus is a whopping 950 mAh, which is highly suited for those who are looking for a longer-lasting vape than the Cuvie.
Total Hits:
The main difference between the Cuvie and Cuvie Plus is that the Plus is a larger option for those looking for more puff content. With the Cuvie Plus, you get up to 1,200 puffs per disposable vape device.
Read more on how many hits does a HQD have?
 Ingredients:
The ingredients within an HQD Cuvie Plus are the same as the Cuvie. This includes Vegetable Glycerin, Propylene Glycol, Natural and artificial flavors, and Nicotine. 
Disposable vape device details:
The HQD Cuvie Plus is a disposable vaped device, slightly taller than the Cuvie and weighs around 45g, so slightly heavier too. With a 5.0ml e-liquid capacity, you've got plenty of juice to keep you puffing for longer.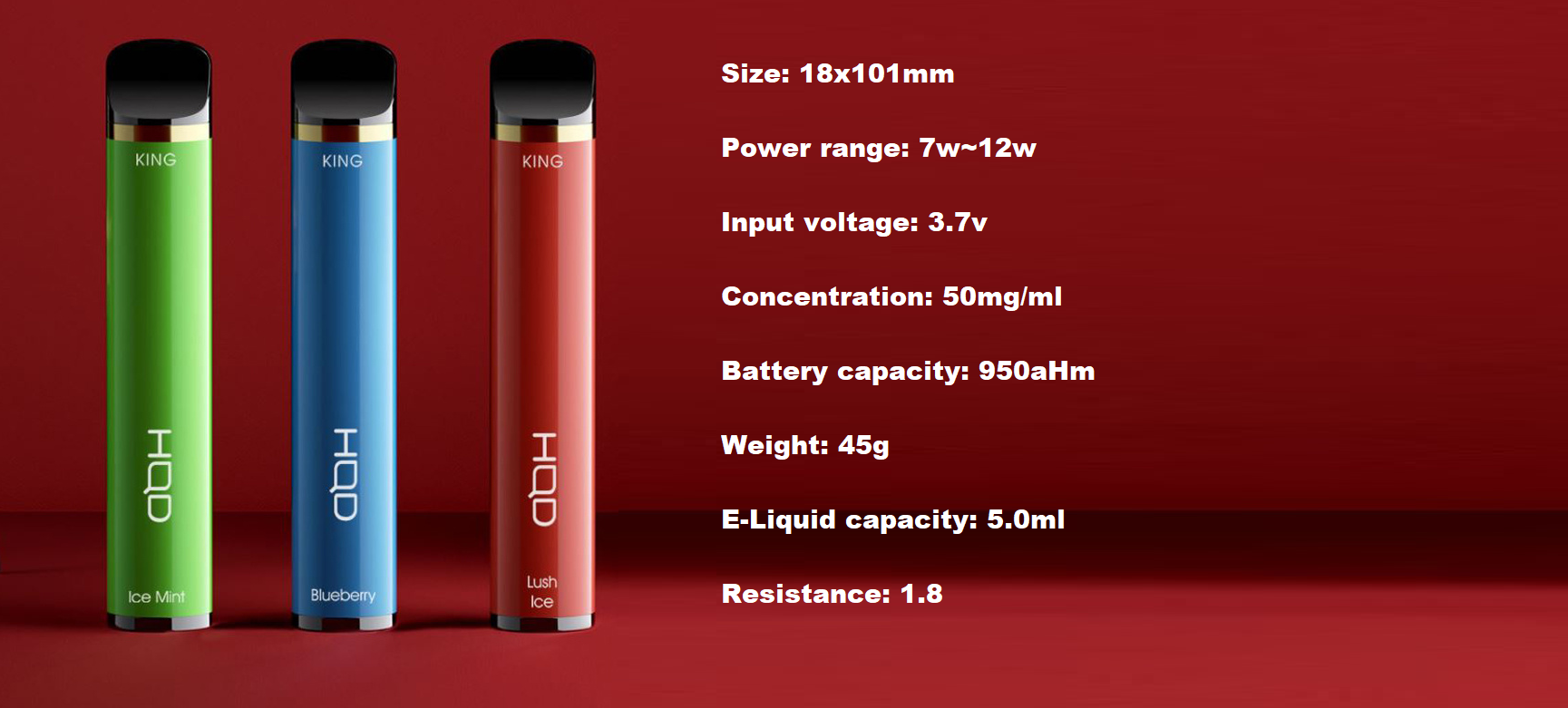 How much is an HQD Cuvie plus disposable vape?
The cost of a HQD Cuvie is surprisingly cheaper than the HQD Cuvie. These devices cost $16.95 per device and will provide plenty of usage, more so than what you'd pay for when buying traditional cigarettes.
Differences between the HQD Cuvie and the Cuvie Plus
There are a number of notable differences between the HQD Cuvie and the Cuvie Plus. The HQD Plus has a drip tip style mouthpiece in comparison to the duck-billed mouthpiece of the Cuvie. This is a personal preference but one that might determine which device you get.
Both have a slim and compact design but the HQD Cuvie Plus offers a great number of puffs per vape pen. The HQD Cuvie Plus is great for those who want a longer-lasting experience in disposable devices and the HQD Cuvie is just enough as a taster if you're new to the brand.
The HQD Cuvie Plus has a further selection of flavors, which may be important for some of the more experienced vape users.
What is the best HQD disposable vape for you?
The best HQD disposable vape for you is dependent on what you're after. If you want to test out new flavors, then it might be worth going for the Cuvie for a short-use experience. For disposable vapes like the HQD Cuvie Plus, it's more suited for those who don't want to switch devices so quickly and want more value for money. 
Want to learn more? Check out our similar posts:
How To Use HQD Vape? A Beginner's Guide
How Many Hits Does a HQD have?
Best HQD Disposable Vape: Top Flavors And Prices
FAQs
How many cigarettes are in a HQD?
Depending on which one you choose, the HQD Cuvie with 300 puffs has an average of 20 cigarettes as an equivalent. For the HQD Cuvie Plus, the device has 1,200 puffs and this is equivalent to around 80 cigarettes.
How long does a HQD vape last?
The power range on both is influential to how long the vape lasts but it's really determined by how long you inhale on each hit and how often you use the vape. For some, it might last a day or two and for others, a few days to a week perhaps.
Does HQD have nicotine?
HQD devices do contain nicotine so, unlike some vape devices where you can just fill the device with shortfill nicotine-free vape juices, these disposable vapes are intended for those needing that nicotine kick.